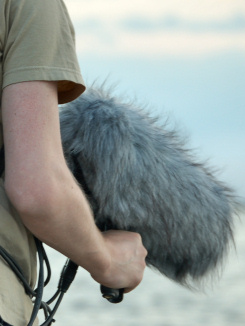 11 Jul 2013selffish live @ the norbergfestival, norberg, sweden - 27.07.2013

after a 3-year delay selffish is again on the international tour. this time his live ambient set is welcomed at the norbergfestival that takes place in a spectacular location in the small town of norberg, sweden. three days a year, industrial concrete buildings transform into an international playground where festival visitors experience a multicolored spectrum of electronic music, sound art, and clubs. together with light and sound installations, workshops in the fields of audio and video and a friendly and creative atmosphere matched by none, this truly makes norbergfestival one-of-a-kind. in 12 years norbergfestival has grown from being a utopian project for a handful of people into one of the most important annual events in the scandinavian electronic music scene. other performing acts: venetian snares, sherwood & pinch, mark archer, oyaarss, i/dex and many other great artists.

20 Aug 2011selffish "just kitten" remix contribution on de'fchild

selffish has contributed his own remix for the "just kitten" track produced by his old chap gosh in 2007. the remix album "just kitten" released on the california-based de'fchild label features other remixes from artists like: havantepe (sublime porte, pong musiq), ruoho ruotsi (de'fchild), martinez gonzalez, celice monnette & enrique gongora (kreativa, miniatura, louder music), etc. please visit the release page for more information about the remix album.

05 Dec 2010various artists - "reference point" mixed by selffish

for this special headphone commute podcast, selffish creates a cinematic mix, featuring his favorite releases from thinner and its now defunct sublabel, autoplate. "through the years i've been pretty much into recording nature and city sounds and decided to drop some of these recorded sounds into this mix as well. most of this music is available from archive.org and scene.org for free. it is an attempt to prove that there is some good music out there that doesn't cost money to enjoy. it is also an attempt to create visual imaginary pictures through perception of the variety of sound textures present in this mix. the cover image is photographed by dmitry bulkin of "noosfera" in 2007 and is called "engure". this image appears to me as the actual reference point of some sort in my own life, when i think of it. despite the featured dark colours, i find this image talking of important matters and there i also see it as a good connection with the music."

[ various artists - "reference point" mixed by selffish ]

30 Jun 2010selffish live @ the tundra festival, naujenos, lt - 04.07.2010 00:01

the annual open air tundra festival at naujenos, lithuania, 40 km away from daugavpils, 195 km from kaunas and 209 km from riga, takes place on july 2-5, 2010 and represents four stages where various artists and djs will be performing: wizards space, charmers space, shamans space and rituals space. each stage covers a specific range of music genres. selffish will perform his foreground ambient ritual at midnight on july 4 at the rituals space stage. please visit tundra festival web site for more information and see you there!
[ show all news... ]