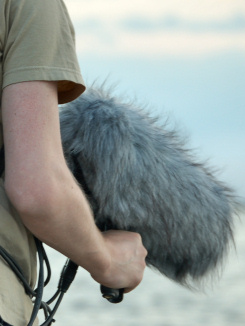 11 Jul 2013selffish live @ the norbergfestival, norberg, sweden - 27.07.2013

after a 3-year delay selffish is again on the international tour. this time his live ambient set is welcomed at the norbergfestival that takes place in a spectacular location in the small town of norberg, sweden. three days a year, industrial concrete buildings transform into an international playground where festival visitors experience a multicolored spectrum of electronic music, sound art, and clubs. together with light and sound installations, workshops in the fields of audio and video and a friendly and creative atmosphere matched by none, this truly makes norbergfestival one-of-a-kind. in 12 years norbergfestival has grown from being a utopian project for a handful of people into one of the most important annual events in the scandinavian electronic music scene. other performing acts: venetian snares, sherwood & pinch, mark archer, oyaarss, i/dex and many other great artists.

20 Aug 2011selffish "just kitten" remix contribution on de'fchild

selffish has contributed his own remix for the "just kitten" track produced by his old chap gosh in 2007. the remix album "just kitten" released on the california-based de'fchild label features other remixes from artists like: havantepe (sublime porte, pong musiq), ruoho ruotsi (de'fchild), martinez gonzalez, celice monnette & enrique gongora (kreativa, miniatura, louder music), etc. please visit the release page for more information about the remix album.

05 Dec 2010various artists - "reference point" mixed by selffish

for this special headphone commute podcast, selffish creates a cinematic mix, featuring his favorite releases from thinner and its now defunct sublabel, autoplate. "through the years i've been pretty much into recording nature and city sounds and decided to drop some of these recorded sounds into this mix as well. most of this music is available from archive.org and scene.org for free. it is an attempt to prove that there is some good music out there that doesn't cost money to enjoy. it is also an attempt to create visual imaginary pictures through perception of the variety of sound textures present in this mix. the cover image is photographed by dmitry bulkin of "noosfera" in 2007 and is called "engure". this image appears to me as the actual reference point of some sort in my own life, when i think of it. despite the featured dark colours, i find this image talking of important matters and there i also see it as a good connection with the music."

[ various artists - "reference point" mixed by selffish ]

30 Jun 2010selffish live @ the tundra festival, naujenos, lt - 04.07.2010 00:01

the annual open air tundra festival at naujenos, lithuania, 40 km away from daugavpils, 195 km from kaunas and 209 km from riga, takes place on july 2-5, 2010 and represents four stages where various artists and djs will be performing: wizards space, charmers space, shamans space and rituals space. each stage covers a specific range of music genres. selffish will perform his foreground ambient ritual at midnight on july 4 at the rituals space stage. please visit tundra festival web site for more information and see you there!

10 Jun 2010soundtrip baltic states and snobo radiomix on soundcloud

along with another latvian sound designer kriipis tulo (kyrill lomunov) selffish released a couple of his previously unreleased tracks for the "soundtrip baltics" cd compilation - a project from folks at "reisse know-how". the "soundtrip baltics" cd represents audio travel guide from various artists across baltic states. go to reisse know-how web site for more information about this and other releases. also, selffish's friend dj snobo mixed selffi's mostly unreleased tracks and put the mix on soundcloud. there are a few tracks in this radio mix that are considered for the upcoming selffish's album "he she them us" (release date: unknown). accidently, this mix was recorded and broadcasted on radio "naba" here in riga on june 6 - the day when selffish was born.

07 Feb 2010new section added: "video"

there's a new section available now called "video". from now on you will find selffish-related videos there. the full-featured embedded player allows to watch full-screen clips. the first uploaded video is a collaboration work between the russian animation/visual artist anasteziya and selffish. it is called "fall" and you are certainly welcome to check it out right away! more videos will be added soon.

17 Jan 2010comfortnoise podcast 004-0110 with selffish 21-01-2010

this is my live performance recorded at the comfortnoise studio in Zürich on 6 january 2010. it features older and newer bits and pieces mixed together with some spice added on its way. many thanks to marius for the opportunity to play my sounds in the relaxed atmosphere that prevails at his place. everyone else should check some fine mixes redefining dub techno and the likes at www.comfortnoise.com. also feel free to visit selffish soundcloud space.

03 Sep 2009live at videography: spacetextures iii on 12.09.2009

the "spacetextures iii" project will feature video- and audio- art from england, slovenia and latvia. it is a continuation of the videography events of the annual "balta nakts" festival. the event takes place at the riga circus (!) on merkela street 4, september 12, 2009 20:00 - 05:00. featured artists: seefeel (warp; too pure / uk), octex (rx:tx; tehnika / si), zavoloka (nexsound; polyfusia / ua), selffish (thinner; native state / lv), woodpecker project (lv), evgeny droomoff / sound meccano (rx:tx / lv), snobo (yaputhma / lv). vjs: punte (orbita / lv), wickiss (klusa daba / lv) for more information please see the balta nakts programme.

07 May 2009live with vj anasteziya (ru) in space::garage on 9.05.2009

selffish and his friend vj anasteziya from moscow, russia are going to demonstrate their audio-visual collaboration in terms of live performance duo at the intelligent riot/debauch party this saturday night at space::garage - a nice club with warm atmosphere and splendid view through its windows (especially in the mornings), located right in the heart of the old town of riga. vj anasteziya is the professional animation artist who has been vjing for quite a while already, and her visuals really make a difference but we'll leave it up to you to judge, so you're welcome aboard! the "intelligent debauch" party starts on may 9th, 2009. featured artists: selffish & vj anasteziya; contour & vj wickiss; xenia kamikaza.

24 Dec 2008selffish live in minsk, belarus on 10.01.2009 @ fabrique

intelligent punks present a six hour happening with deadbeat, selffish and foundamental artists: i/dex, pavel ambiont & nerdy dubz and parametric on saturday, 10 january 2009. the event will take place at club "fabrique" in minsk, belarus. this is the second time selffish visits minsk and he will be happy to meet old and new friends after a while!

13 Jun 2008live @ tundra festival ("chillout" stage), pociunai, lithuania on 06.07.2008

"tundra" is an annual electronic music festival in lithuania that takes place in the pociunai forest, located 40 km away from kaunas and 100 km away from vilnius (map). the festival features a massive line-up of international artists. the so called "chillout" stage is represented as a part of the klusa daba 2008 festival, with a number of electronic music acts from latvia, russia, ireland and finland. selffish supports the idea of a festival in the open air and will contribute by playing his music live. please see the official site of the tundra festival for more information.

07 Aug 2007selffish live @ the klusa daba festival in riga on 25.08.2007

i am glad i had a chance to play my own music at the klusa daba festival this year, meet xerxes (klaus lunde) and a few other musicians in person, and listen to some good music. i have also recorded my live set, 'balancing joy and sadness', that night and welcome you to listen to it: selffish live @ klusa daba festival 25-08-2007. setlist is also available and can be downloaded here. recorded at 128kbps 48Khz mp3. higher quality 192kbps mp3 file available upon a special request (for promotion purposes only)

01 Jun 2007live @ wilsonic festival in bratislava, slovakia on 9.06.2007

wilsonic is an advanced music festival held annually in bratislava, slovakia. wilsonic festival's location - "tyršovo nábrežie" - is a beautiful place on the right side of the river danube with a nice, postcard-like view of the old town, castle and the bridge. a wide variety of modern music is represented. the primary focus was on local central and eastern european artists, musicians and producers sharing the stage with their critically acclaimed, international counterparts. the line-up consisted of more than 50 bands and art projects playing on 5 festival stages. selffish was glad to attend with his music this year! thank you slovakia! thank you bratislava!

14 May 2007appearance on "bioluminescence" / native state records

bioluminescence is the latest compilation from the american west coast's innovative label native state records. compiled by label a&r/dj naasko this laidback selection brings together the freshest musical stylings from both emerging and respected producers around the world. conjuring light from the depths bioluminescence is an outstanding collection of hypnotic digi-dub grooves. with brand new tracks by pitch black, adham shaikh, bluetech, krill.minima, random and others this compilation features a stunning remix of shen's track embrace by ~scape's digital dub legend deadbeat. selffish appears on "bioluminescence" with his new dubby track "easy, mr. palmer". the cd will be released worldwide on june 15, 2007.
www.nativestaterecords.com
www.nativestatedigital.com


18 Apr 200727.04.2007 selffish live @ re:directions in vilnius, lithuania

along with several other artists and djs from the baltic states selffish has played his live set in the capital of lithuania, vilnius, on april 27, 2007 at the absinth night club. i've put several photos from this event online (see re:directions photo gallery). massive thanks to minimal crew of minimal.lt for this opportunity and special thanks to alius for his belief in good music and a positive vibe!

16 Jan 2007selffish on v/a - deep sea shipping (lmc800)

"v/a - deep sea shipping" is a cd compilation on lagunamuch, an electronic label in moscow, russia, that has united many russian-speaking artists living in russia and abroad. deep sea shipping is a term borrowed from maritime logistics and navigation. it perfectly reflects the whole internal component of music on this compilation. the concept of deep sea shipping is rooted way back in the mythical worlds of h.p. lovecraft, as well as in the realm of sci-fi stories. moreover, the word 'deep' is of key importance here, because all the tracks on "deep sea shipping" were stylistically aligned with each other from the start, interconnected by such genres as deep-tech, deep-ambient and deep electronic. the compilation is opened by "initialization" followed by "deep sea shipping" - the two tracks produced by selffish. other artists featured on the cd are: lazyfish, unit21, kriipis tulo, sever, oid and other artists. please visit www.lagunamuch.com/index.php?static=19 (russian only) for more information about the "deep sea shipping" compilation cd.

27 Nov 2006he, she, them, us... work in progress!

selffish keeps working on his upcoming album called "he, she, them, us", which is going to be released on the thinner netlabel in january - february 2007. it's been a while since selffish has promised his new thinner album not to take long, but it took longer than he initially expected.
"avocado stone" (cello and fretless bass performed by joseph santori and recorded by sheehan tavish) and "epilogue" are two tracks from the upcoming album that are available for download from this site. recently, selffish has also released his track "play" in a new compilation cd on the friendly label kuurort records (estonia). the cd is featuring various artists from the nordic countries (estonia, latvia, iceland etc.) and is available for sale online at the muda music site: www.mudamusic.com/

28 Aug 2006live @ the skaņu mežs festival in riga, latvia on 9.09.2006

international adventurous music festival "skaņu mežs 2006" (sound forest) on september 8-9, andrejostas street 4 @ andrejsala. as always, the festival offers quite a diverse program featuring artists from both academical, and non-academical musical worlds. selffish played his music live at the "dirty deal café" ("metināšanas darbnīca") on september 9, 2006. a few photographs from the event are now available in the gallery. be welcome to check!

11 Jul 2006live @ the "klusa daba" ambient festival on 26-27.08.2006

the "klusa daba" festival was originally organized by s/o "daba" and for three years has been held in ventspils. it is an independent ambient music and video art project, which will be partly included into the annual art festival "Å«densgabali". ambient music performers and video artists will create interaction of these two art forms. ambient music style intensifies the perception of video art. the festival will give the opportunity to popularize ambient music and to take latvian audience on a voyage of discovery. this year the festival will take place in riga at ab dambis (ab pier) on the river daugava, across riga old town. the event is planned to be round the clock, opening on august 26 at 12:00 am. for more information, please visit: www.klusadaba.lv

09 Sep 2005"blue planet chill" back in stock!

originally released in riga by +371 records at the beginning of 2002, selffish's debut cd album "blue planet chill" was reprinted in april 2005 by the peace technologies record label in moscow, russia. this album embodies an elegant combination of nocturnal laid-back melodies fused with idm/micro-chilled beats and soft ambient themes. "all these rhythmic clicks and buzzes form a precise and adjusted rhythmic pattern. it's a sound architecture of twinkling electronic objects, pulsing in the unfolding web of dimensions", states a contemporary writer and poet sergej timofeyev in his review of the album.
the re-release is identical to the earlier limited edition and features minor cd booklet changes. the album is on sale in moscow at the "indie-go!" music shop located in the night club "16 tons", address: 6, presnensky val, bldg. 1, metro station: "ulitza 1905 goda". distribution rights in russia belong to indie-go!music. the "blue planet chill" cd is also available for €13.- (includes shipping cost) via paypal, a secure online payment system: click here to order your copy via paypal. the white-blue cd is also available at the kuurort record store online, as well as in riga at the music stores: "upe" and "randoms". if you have any other requests regarding the album, please send e-mail to info@plus371.com.

related: www.plus371.com, www.lagunamuch.com, www.16tons.ru

17 Feb 2005selffish releases "crossways" ambient-dub mix!

for some people in this world, the brilliant ambient-dub compilation "silent season dub" (released on netlabel thinner in 2003) acts as a vivid reminder to a certain period of their lives. in february 2005, following on from the success of this album, thinner are releasing a new ambient-dub compilation entitled "crossways", presenting 27 artists from their earlier musical projects on various labels. i have been given the honour of compiling these tracks into a two-hour mix and it is now my pleasure to present it to you in two parts, accompanied with cue-sheet files for easy cd burning. who knows, perhaps over the years "crossways" will also make an impact on you and remind you of some special moments in your life.

download:
"selffish - crossways mix part 1" / cue-sheet data file for cd 1
"selffish - crossways mix part 2" / cue-sheet data file for cd 2

note: cue-sheet files contain tracklists and information on how to split a single mix into separate tracks for burning on cd. for more information about cue-sheets and cd mastering applications, please see the following link: www.dcsoft.com/cue_mastering_progs.htm

02 Dec 2004selffish's liveset @ 16 tons is now available in mp3

selffish's october's live set at 16 tons in moscow, russia is now available for download: selffish--live-moscow-21-10-2004.mp3. original buzzing noise from the club's mixer had been removed! enjoy selffish's live improvisation!

23 Nov 2004selffish demo mix (10.09.2004) + tracklist

selffish's demo mix (10.09.2004) is available: download mp3. in this mix selffish plays his older and newer pieces, thus it can be a good general introduction to his sound. someone requested a tracklist so here it comes:

01. biting grief [4:19]
02. unnamed/unfinished [6:28]
03. piano loop [1:07]
04. paradigm shift [5:46]
05. sound judgement [4:29]
06. unnamed/unfinished [2:56]
07. playground [5:53]
08. lo-fi funk 67 [4:50]
09. jet-legger [4:49]
10. elusive [5:56]
11. bare poles [6:46]
12. flashback [3:38]
13. we are not what we were [6:16]

total playing time: 63:18. enjoy!

10 Sep 2004thinner-autoplate-realaudio mix (june 2004)

i have just uploaded this summer mix of mine on selffish.org. mood shifts, various genres: from ambient dub to subtle summer minimal house. 50 minutes of non-stop electronic music by various artists from the europian netlabels: realaudio, thinner and autoplate! download high-quality mp3 mix to listen and a tracklist for information.